Welcome to Popcorn Girl, would you like to sample something while you wait?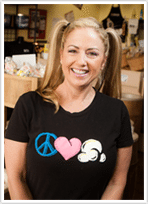 If the smell of freshly popped popcorn is irresistible to you, then Popcorn Girl should be your new hangout. We have a fun and exciting atmosphere full of popcorn, gifts, fudge, candy, and FREE Samples. Walk into any Popcorn Girl location, we have three in Las Vegas, and pick yours up today. Be sure to try something new, even if you end up getting the same thing every time.
Why Popcorn Girl is Best
We are FRESH! You will likely hear the sound, smell the unmistakable aroma, and practically taste the freshness of our delicious popcorn at the door. Each of our locations pops our popcorn fresh, and with such volume you know it didn't sit on the shelves long. When it comes to our product standards, we dare anyone to say that they offer fresher popcorn.
Not from Las Vegas or just don't want to leave the house? You don't have to deny yourself that sweet, salty, buttery, candy coated, or chocolate goodness. Order your favorite flavor, or combination of flavors, and have them shipped straight to your home, office, or event location today.